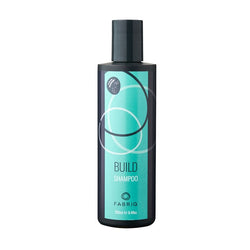 Fabriq Build Keratin Shampoo 250ml
Fabriq is the new name for Kerastraight and their build shampoo replaces the Kerastraight Volume Enhance shampoo. The formula has been improved making it even more effective than the Kerastraight range. 
Designed to be used as a post Fabriq Keratin hair treatment but is perfect for hair that needs that extra protein and volume boost. Build shampoo transforms fine, weak & lifeless hair. Get thicker, fuller hair. This shampoo delivers long-lasting results & a luxurious experience every time. Achieve fuller, thicker & stronger hair. Contains a unique blend of proteins and plant extracts adds body and volume perfect for fine, weak and limp hair.
For best results use alongside Fabriq Build conditioner and Build mask.