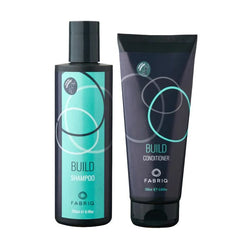 Fabriq Build Volume Shampoo and Conditioner 250ml (fomerly Kerastraight)
Fabriq is new keratin blowdry system that transforms frizzy unmanageable hair into smooth luscious locks - it is the new improved Kerastraight. Fabriq Build shampoo and conditioner transforms fine, weak and lifeless hair into thicker, fuller, luscious locks. This shampoo works in perfect partnership with Build Conditioner, delivering long-lasting results and a luxurious experience every time.
Kiss goodbye to tangles and snags and say hello to fuller, thicker hair that's strong enough to stand up to everyday challenges and then some. Transforming fine, weak or limp hair and making whatever style you choose easy to achieve and easy to manage, use it in partner with Build conditioner for incredible results.