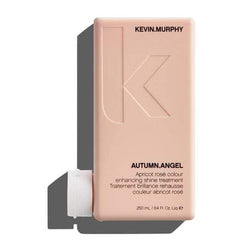 Kevin Murphy Autumn.Angel 250ml Colour Enhancing Treatment
Perfect for adding a soft rose hue, AUTUMN.ANGEL, contains pigments to help neutralise unwanted shades and promote a luminous healthy shine. Designed to be used on blondes, pinks, any shade of red, orange, strawberry blonde and even red hair colours, it provides a beautiful rosey glow, whilst enhancing moisture and restoring shine. The pigments in this treatment will deliver multi-tonal results but not create colour build up so AUTUMN.ANGEL can be used as regularly as you like, in place of your normal conditioner.
Key benefits
Neutralises unwanted shades in blonde, red and orange hair
Adds a beautiful soft, rosey apricot tint to hair
Adds shine and luster to dull hair
Vegan friendly
Paraben, sulphate and cruelty free
How to use Kevin Murphy AUTUMN.ANGEL
Shampoo hair as normal, then apply AUTUMN.ANGEL to wet hair
Distribute through the lengths and ends
Leave on for 3 - 5 minutes
Rinse thoroughly
Use in place of a conditioner, as as often as you wish
Key ingredients
Olive leaf extract, green tea extract, grape seed oil, jojoba seed oil, linseed oil and lavender oil.