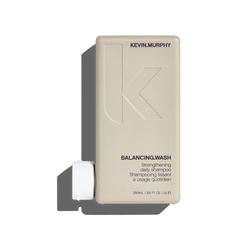 Kevin Murphy Balancing Wash 250ml Shampoo
A daily strengthening shampoo to help revitalise and cleanse. Formulated with a blend of botanicals that are rich in antioxidants, it effectively helps to balance sebum, add volume, protect colour and invigorate making it perfect for both normal and oily hair types. It also helps to protect against damage caused by heat and over styling.
Key benefits
Refreshes and invigorates
Balances hair and scalp
Ideal for all types, but particularly normal and oily
Vegan friendly
Sulphate, paraben and cruelty free
How to use Kevin Murphy BALANCING.WASH
Apply to wet hair
Massage and then rinse thoroughly
Key ingredients
Sage leaf extract, to stimulate hair growth, clear away toxins, promote cell regeneration and clear greasy hair and flaky scalp. Wheat amino acids to promote hair growth, grapefruit extract to restore shine and luster and balance the pH levels on the scalp. Flower oils to give a natural shine, and lavender oil to regulate the production of oil from the sebaceous glands, and help dry or oily hair. 

Sizes: 250mL
Wheat Amino Acids are known to work deeply and supply a nourishing blend of moisturising ingredients that help to boost softness and shine, while building body and fullness.
Salvia Officinalis (Sage) Leaf Extract with its abundant vitamins and minerals, helps greasy hair.
Citrus Grandis (Grapefruit) Extract with its high levels of Vitamins C and E, helps to restore lustre and shine to the hair.
Cananga Odorata (Ylang Ylang) Flower Oil, one of the perfume world's favourite flowers, is known for its natural conditioning properties and also helps restore balance to an oily scalp.
Pelargonium Graveolons (Geranium) Flower Oil provides shine and manageability.
Camellia Sinensis Leaf Extract (Green Tea) has been revered for centuries for its powerful antioxidant properties. Helps to increase the feel of hair's elasticity and aids moisture retention.