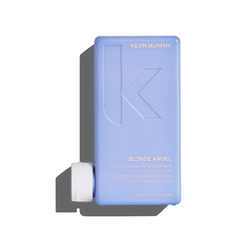 Kevin Murphy Blonde Angel Rinse Purple Treatment Conditioner 250ml
Set just the right tone, and work to restore optimum condition and lustre to brassy blah blah, blonde tones. BLONDE.ANGEL conditions and moisturises bleached, highlighted and grey hair, putting the bounce back into your blonde, while repairing any brassy or yellow tones.
Sizes: 250mL
Contains Biotin, Niacin, Vitamins A and E to help with the condition and ensure your hair stays in top condition.
Widely cultivated throughout the Mediterranean, Lavendula Angustifolia (Lavender) Extract is one of nature's gentlest scents, known for its calming and soothing properties.
Jojoba Seed Oil provides hydration while soothing both the hair and scalp.
Bertholletia Excelsa Seed (Brazil Nut) Oil known to be rich in omega fatty acids, this nourishing oil helps fight frizz, tames and protects the hair, while helping to reduce breakage.
Linseed Oil is known to promote healthy shine, and contains essential fatty acids that are vital to maintaining healthy hair.