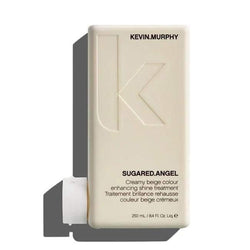 Kevin Murphy Sugared.Angel Treatment 250ml
Add creamy toffee and beige hues to natural or colour enhanced blondes with SUGARED.ANGEL.

Containing pigments that have been selected to mute unwanted warmth while enhancing existing tones creating luminous vanilla, beige and toffee reflects for natural and longer lasting colour without building up on the hair.

Perfect for sandy blondes to biscuit browns.
Directions For Use
Shampoo as usual and then apply to wet hair, wait 3-5 minutes before rinsing thoroughly. Suitable for use as often as you wish, as the pigments are designed to never build up on your hair.

SUGARED.ANGEL is a conditioning treatment so no need to follow with conditioner.