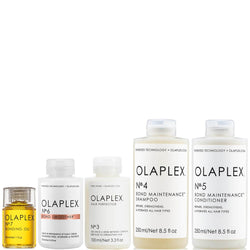 Olaplex MEGA Bundle No.3 Bond Perfector, No.4 & 5 Shampoo & Conditioner, No.6 Bond Smoother & No.7 Oil
Rescue your hair and get it in amazing condition with this Olaplex bundle, create your super sleek locks with weekly treatments and intense shampoo and conditioner. Then finish off your look with smoothing balm and oil. All products in the range will repair broken bonds in the hair and contain the same bond repairing technology as Olaplex no.1 & no.2. All products are vegan friendly and cruelty free. Free from parabens and sulphates.
Included in the bundle:
Olaplex No.3 100ml
This is an at home treatment to keep your hair in beautiful condition in between visits to the salon. 
Olaplex No.4 & No.5 250ml
Olaplex Shampoo and conditioner with the same bond repairing technology.
Olaplex No.6 & No.7 
Olaplex Bond smoother & Bonding oil to make your hair feel great with a smooth silky shine.
All for £129