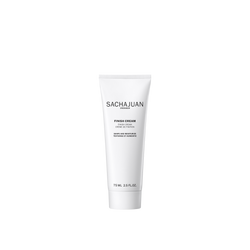 SachaJuan Finishing Cream 75ml
Finish Cream controls, moisturises and creates definition while adding shine without greasiness. Contains ocean silk technology. can be applied to dry or damp hair.
Benefits
Offers natural, weightless style control and defined texture
Tames flyaways, moisturises and smoothes hair
SachaJuan was established by internationally renowned hairdressers Sacha Mitic and Juan Rosenlind in 1997, SACHAJUAN has been developing and manufacturing haircare and styling products since 2004. They have remained committed to their philosophy to simplify haircare by reducing superfluous products, ingredients, and routines. Their continuous ambition is to make haircare and styling effortless and uncomplicated.