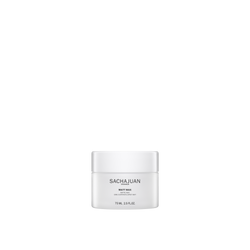 A grooming aid for a rough and flexible hold. Designed especially for shorter styles. Suitable for all hair types. Use wet or dry for a matt effect.
Benefits
Easy to style and restyle
Offers hold where no shine is wanted
Rough, flexible hold with a matt effect once the hair dries
Hold factor 2
Established by internationally renowned hairdressers Sacha Mitic and Juan Rosenlind in 1997, SACHAJUAN has been developing and manufacturing our haircare and styling products since 2004. They have remained committed to their philosophy to simplify haircare by reducing superfluous products, ingredients, and routines. With a  continuous ambition to make haircare and styling effortless and uncomplicated.