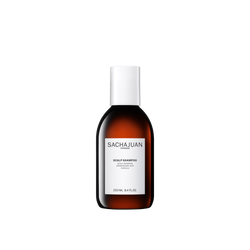 SachaJuan Scalp Shampoo 250ml
SachJuan Scalp Shampoo 250ml is one of the best shampoos on the market for anyone who has an irritated scalp, Psoriasis or dandruff. It is perfect for anyone with a sensitive scalp but also makes your hair feel amazing. 
This shampoo is specially formulated with Piroctone Olamine and Climbazole which remove dandruff and sooth irritated scalps. Rosemary oil, Menthol, Salicylic Acid and Ginger extract soothes irritated, rubescent scalp and maintains healthy moisture balance of hair and scalp.
Benefits
Soothes irritated and dry scalps
Salicylic acid gently sheds dead skin. Promoting new cell growth.
Vegan formula
SachJuan Scalp Shampoo 250ml is one of the best shampoos on the market for anyone who has an irritated scalp, Psoriasis and dandruff. It is perfect for anyone with a sensitive scalp but also makes your hair feel amazing. The reviews are amazing